Naval divers returned to the Coventry's final resting place in late 1982. A Royal Navy saturation diving team led by Lt Cdr (later Cdr) Mike Kooner RN (CO of MV Stena Seaspread and OIC Naval Party 2200) that recovered sensitive items from the wreck of HMS Coventry 10 miles north of Pebble Island. The operation - "Operation Blackleg" - was undertaken between 13 October 1982 and 2 January 1983.
At the request of Coventry's Commanding Officer, Captain David Hart Dyke LVO, RN, the divers also recovered his ceremonial sword and telescope, now on display in the RN Museum in Portsmouth, as well as the Cross of Nails from Coventry Cathedral, presented in 1978 when the ship was commissioned. Lt Cdr Kooner was subsequently appointed an MBE and PO(D) Michael 'Harry' Harrison was awarded the Queen's Gallantry Medal (QGM). PO(D) Harrison was lucky to escape serious injury when a build-up of gases caused an explosion in the compartment where he was working and cracked the reinforced face plate of his diving mask.
The Cross of Nails was returned to Coventry Cathedral in 1983 by Captain Hart-Dyke.
A memorial to the crew who lost their lives onboard Coventry was erected on Pebble Island. Holy Trinity Church in Coventry itself also has a memorial plaque on display. A general Falklands memorial plaque is in Old Portsmouth, on Broad Street not far from the harbour mouth.
The HMS Coventry Association raised funds to pay for the addition of a memorial tree and plaque in the National Memorial Arboretum in early 2013.


The HMS Coventry memorial on Pebble Island; Iain Cottingham
| | |
| --- | --- |
| Plaque below the Pebble Island memorial; Iain Cottingham | Roll of Honour below the Pebble Island memorial; Iain Cottingham |
Iain also visited the memorial to our sister ship HMS Sheffield: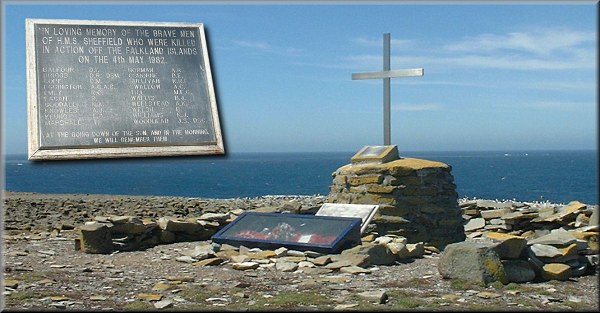 The HMS Sheffield memorial on Sea Lion Island; Iain Cottingham
As a war grave at a significant depth HMS Coventry has always had some measure of protection from unauthorised dives, but since November 2001 she has also been listed as a Controlled Site, requiring a permit from the MoD before any dives can be carried out.
It is of interest to note that trainees at HMS Raleigh, when carrying out damage control exercises, are now given the same amount of time to shore up a flooded compartment that Coventry took to capsize after the attack. Lessons learned from the Falklands are evident in modern warships - later Type 42s and the current Type 45s are equipped with the Phalanx Close-in Weapons Systems (CIWS) which are radar guided rapid firing multi-barreled 20mm cannon optimised to defend against incoming missiles and aircraft that have managed to get past the missile defences. Modern anti-air missiles tend to be vertically launched, turning towards their target after launch - so a target can be attacked in any direction rather than relying on the ship and launcher being oriented correctly. Modern radars and missiles are of course significantly more lethal than those of 1982 vintage.

HMS Coventry F98; MoD(RN)
A new Batch II Type 22 Frigate ordered after the war was given the name HMS Coventry (F98) and was commisioned in 1988. She was presented with the Cross of Nails too. Unfortunately she was decommissioned in December 2001 due to defence cutbacks despite a headline-grabbing career including multi-million pound drug busts in the Caribbean! The Romanian Navy purchased F98 on 14th January 2003, and re-commissioned her as the Regele Ferdinand on 9th September 2004. At the time of writing no Royal Navy ship carries the name of HMS Coventry despite a campaign to commission another HMS Coventry. When HMS Coventry F98 was decommisioned the Cross of Nails was held by Coventry Cathedral once more until presented to HMS Diamond, the Type 45 destroyer D34, which is now affiliated with the City of Coventry.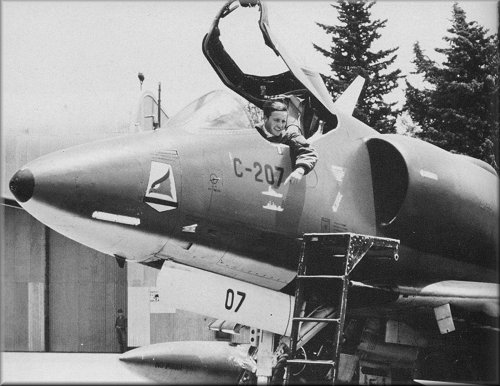 Jorge Barrionuevo points to the kill marking applied to his Skyhawk in a publicity photo; FAA
Of the Argentine aircraft involved in the raid, C-207 (Barrionuevo's) was retired in March 1999 and is now in the Museo Nacional de Aeronautica storage depot at Moron. C-212 was damaged in 1985 but repaired to return to service, finally being retired in 1994; it is now on display wearing false codes of 'C-204' at Area Material Rio Cuarto (Cordoba). C-214 and C-225 have also been retired and are now stored at Villa Reynolds.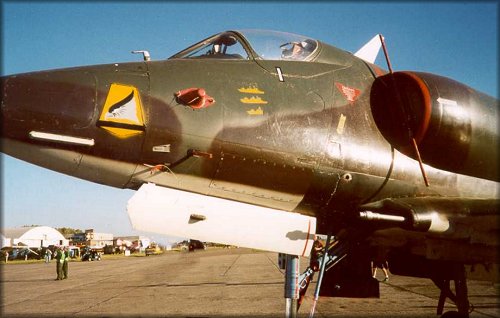 C-207, having gained another half kill marking, seen on retirement in March 1999; courtesy HMS Glamorgan site
Grupo 5 suffered an appalling 28% pilot loss rate during the war, with the smaller Grupo 4 having an incredible 50% loss rate.