The fourth Type 42 to enter service, HMS Coventry was laid down by Cammell Laird at Birkenhead on 29th January 1973 and launched on 21st June 1974. She's pictured here on builder's trials (no pennant number yet, and flying the Red Ensign).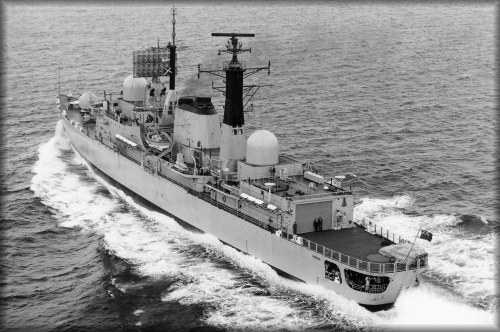 Coventry on builder's trials (1974?)
She was commissioned on 10th November 1978 at Portsmouth Dockyard. Following initial trials she was given the task of trialling the Lynx helicopter to determine safe operating limits for the Lynx/Type 42 combination.

Coventry in August 1979; C and S Taylor
Initially allocated to the 8th Frigate Squadron and under the command of Captain C. Burne, she was transferred to the newly formed 3rd Destroyer Squadron in 1980. Her first major deployment was to the Far East, exercising with the navies of France, Pakistan, Oman and the USA. Visits were made to East Africa, Oman, Karachi, Singapore and Hong Kong. In September 1980 she arrived at Shanghai along with HMS Antrim and HMS Alacrity; this was the first visit by British warships to the Republic of China in 30 years.
During the voyage home the Iran-Iraq war broke out, and Coventry remained on patrol in the Gulf for six weeks, finally returning home in December 1980. In 1981 she took part in a large NATO exercise codename 'Ocean Safari' and continued to take part in various smaller exercises until March 1982 when she was at Gibraltar for the annual Operation Springtrain exercise.
With the news of Argentina's invasion of the Falklands, Coventry became part of the Advanced Group of the Task Force and set sail for the Falklands and the operation to re-take them - Operation Corporate.